Magnetic Indicator Stand, Magnetic Base Stand-Features
Ultra Holding Power Magnetic Indicator Stand

250 Kgf

(2500N)
To improve the defect of existing products and re- innovation:

Magnetic stand loose due to inadequate suction force and lead to dial indicator damage.
Adjust the fixed knob is easy to loosen and lead to adjust pole cannot really fixed.
Vertical pole lock with magnetic base solid link mechanism is poor and easy to broken & separate.
Its gauge head is locked tightly and unable to move and process its measuring function after dial indicator locking in the fine-tuning seat.
Magnetic base adsorption force is poor. It causes to loose and lead to dial indicator damage due to vibration and weight load when it adsorbs on the machine or sideways extend for the measurement. Poor measurement accuracy and could not do the repeatability of measurement.

Fixed adjustment knob using a special clamp design innovation, fine-tuning effortless and not easy to lose off.
The connected point of vertical pole and magnetic base was designed by special innovation. Not easy to split or disintegrate.
Powerful magnetic force generated the shock effect can avoid loose the measuring accuracy due to machine vibration.
Modular design, easy to replace the parts. Don't need to change new one when it broken, longer life.
Verticalφ20mm pole and horizontal φ15mm pole made of Stainless steel, well rigid and durable
Indicator holder with universal joints, measurement range is wider. Applicable to variety indicators(Dovetail type, flat type, lug back type)
This product measuring length up to 1 M, 1 M arm extending its repeated measurement accuracy remains unchanged.
Ultra holding power magnetic base is our own R & D, excellent stability,


Magnetic force: 250 kgf. (2500N)

Looking for the magnetic stand of high accuracy and stability is none other than this product.
This product has a new invention and patent in Japan and multi-nation, counterfeiting.
Multi-direction Example
Practical、High Performance、Stability
Examples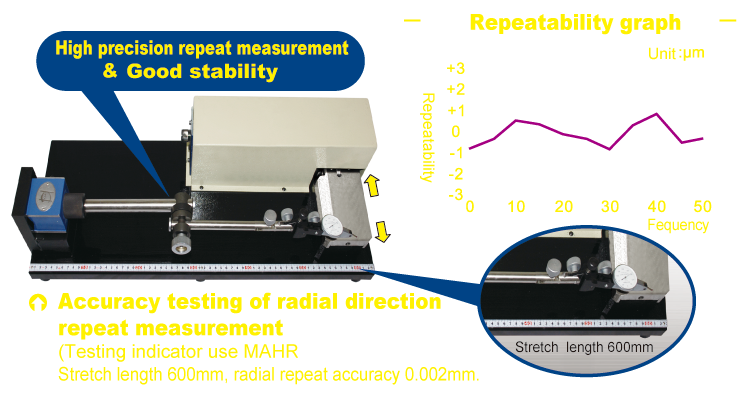 Practical Example
• Forward vertical hanging load 100kgs.

• Ultra good magnetic stability.

• Lateral hanging sttrong adsorption.

• Adsorption plate thickness 2.3mm.

• Lateral hanging load 13kgs.

• Vertical stem stretch 100mm forward hanging.

• Adsorption plate thickness.

• Forward hanging load 13kgs.
| | |
| --- | --- |
| 01. | The products apply to wide range, |
| | such as machinery manufacturing, |
| | parts processing,laboratory testing. |
| 02. | Excellent rigidity and stability,the |
| | unique shock-proof design,can |
| | prevent shaking force,high accuracy. |
| 03. | Length stretch 600mm,radial repeat |
| | accuracy 0.002mm |
| 04. | Can be etensive use of multi-angle, |
| | free rotation and positioning,easy to |
| | operate,practial. |